Low Voltage Switchgears / SYSTEM PRO E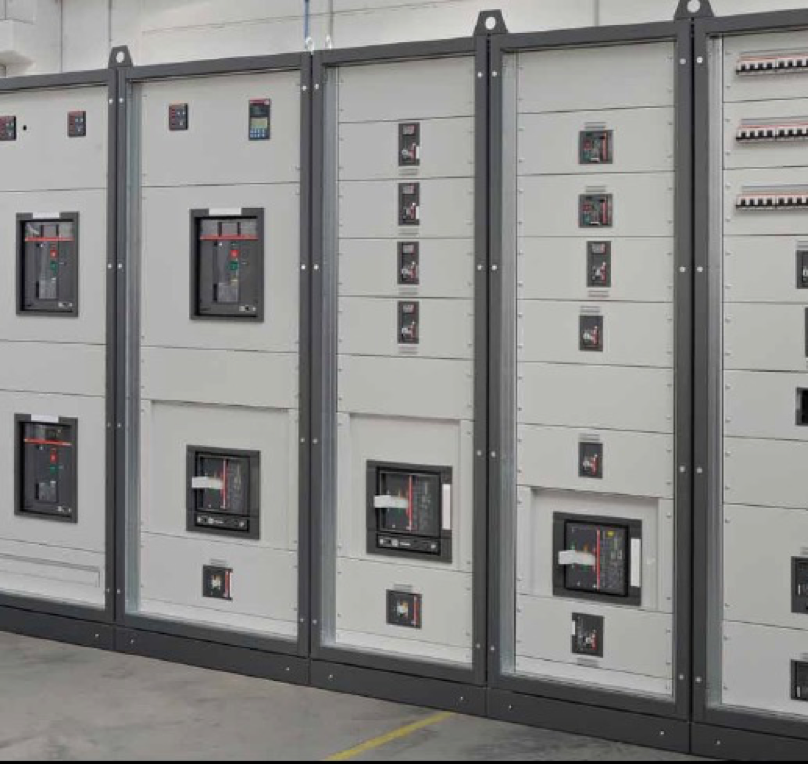 Low Voltage Distribution Boards up to 6300 A
Thanks to the new switchboard, ABB can provide complete solutions for main electric power distribution in infrastructures and industries,
in accordance with the regulatory framework.Typical fields of application are airports, sub- ways, hospitals, industrial and residential estates, ports, tunnels, railways, theatres, etc.
In addition, System pro E power guarantees full synergy with all the other ABB apparatus (i.e. modular circuit-breakers, Tmax T and XT moulded-case circuit-breakers, Emax 2 air circuit-breakers) while being extremely simple to assemble and ensuring ease of wiring.Great attention has been made to the wiring requirements, with adequately sized structures and pre-engineered sites for mounting the
horizontal and vertical plastic ducts.The switchboards comprise the following components:
Structure: simple and quick to assemble. Stability is ensured thanks to the new double-surface 
profile of the upright and the new
Internal kits: designed to integrate ABB's low 
voltage products. Save time during the assembly work thanks to the patented new
Main distribution systems: available in the linear and scaled versions. Allow the busbars to be installed in any position, horizontally or vertically
The range of System pro E power structures can be used to create lots of switchboard configurations while guaranteeing flexibility and a certified product. Up to 120 different configurations can be assembled with a just a few part numbers. This new series features a structure in hot-dip galvanized sheet steel that guarantees equipotential bonding of the switchboard.

IP protection degrees for all types of applications, i.e. up to IP65, can be obtained. It's the only switchboard to reach such a high value. Certification was achieved after stringent tests involving the entire configuration (structure, circuit-breakers and busbar system), thus
systems conforming to the new international standard IEC 61439-1-2 can be created by follow- ing ABB's instructions. ABB apparatus can be in- stalled inside the switchboards with high-level integration and optimized use of the available space thanks to the new modules, i.e. 150mm in height, as well as the usual 200mm modules.
The circuit-breakers can be internally separated from Form 1 to Form 4b.
Segregations in accordance with Standard IEC 61439-1-2
Provide protection against direct contacts (at least IPXXB) when a de-energized part of a switchboard must be accessed while the rest of it remains energized.
Reduce the possibility of internal arc ignition and propagation.
Prevent solid bodies from passing between different parts of the switchboard (protection class at least IP2X).