Electro George has excelled due to its high quality standards and expertise.
This has allowed Electro George to thrive not only in the local market but internationally as well.
We have completed projects in several countries outside of Egypt including – but not limited to – France, Saudi Arabia, Yemen, Iraq, Ethiopia and Libya.
Our scope of supply varied from MV Switchgears, LV Main Panels, Motor Control Centers and Final Distribution Boards.
– Iraq rehabilitation with Bechtel USA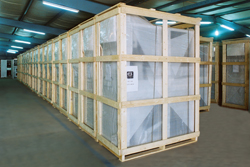 – Iraq SCOP, West Quorna field
– Iraq (ATS panels)
– Ethiopia (18 substations)
– Water Treatment Plants in Libya
– P&G Plant in Yemen
– MV Switchgears to SIEMENS France