Motor Control Centre type SEV 32
Motor control center with fully withdrawable modules.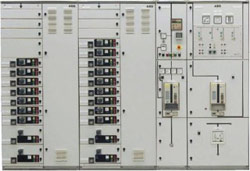 All switching, control and protection devices are mounted as one functional unit within one module. Each cubicle can house up to 32 withdrawable units from a range of 7 standard module sizes.
Field Bus Communication
SEK/SEV 32 cubicles can be supplied with an optional integrated field bus system utilizing specially developed motor control devices and air circuit breakers with communication features.
Type Tests
Totally Type-tested low voltage switchgear & control gear combinations (TTA) according to IEC 60439-1, DIN EN 60439-1 & VDE 0660 part 500
Arc fault protection (Protection against internal faults) tested according to IEC 61641 & supplementary sheet 2 to DIN EN 60439-1